From October 2018 to December 2021, George S. Perry, Jr., Ph.D., served in the New York City Department of Education and the Chancellor's Office as the director of school leadership and organiza­tional alignment. In this role, George supported the assess­ment, alignment, and imple­mentation of citywide equity and values-centered leader­ship development for teacher, school, and district leaders.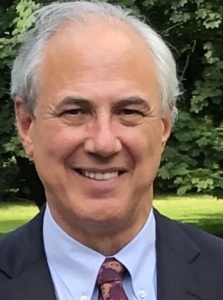 Before joining the New York City Department of Education, George was executive director of Perry and Associates, Inc., a national consulting firm, founded in 2001, that acts on its commitment to social justice and equity by assisting district and school leaders to improve the academic achievement of all students.
George has 40 years of experience in education at the national, state, and local levels. George directed experienced, highly suc­cessful consultant teams in building instructional leadership capacity at the district and school levels. He and his colleagues assisted school boards, superintendents, and district and school leaders to transform central offices to support schools; strengthen instructional leadership capacity by fostering ver­tical coherence from the classroom to the boardroom; redesign systemwide systems of support for students with disabilities and family engagement; strengthen principal instructional leadership; accelerate middle and high school level academic achievement; and develop prototype curricula.
George and his colleagues guided over 100 underperforming schools in Corpus Christi, Flint, Long Beach, Los Angeles, and San Diego to raise and sustain student achievement by improv­ing instruction, building on strengths and data and research-based strategies.
The district and school partnerships have been successful in raising student achievement, closing achievement gaps, and preparing students for college and careers. Three partner dis­tricts have won the prestigious Broad Prize for Urban Education, awarded annually for raising student achievement and closing achievement gaps.
In addition, George served as the senior education advisor during the 2013 campaigns and on the transition teams of Mayor Marty Walsh of Boston and Mayor Bill de Blasio of New York City.
Beginning in 1994, George was a senior consultant with the Panasonic Foundation, working on district-level, systemic improvement and assisting school boards, superintendents, and district and association/union leaders to "break the links" between race, poverty, and achievement for all students: All Means All. In this role, George assisted district leaders on their journey toward advancing equity as a "critical friend" and coach. With his support, leaders built their capacity to think and plan strategically and systemically, identify barriers to improvement, and address significant challenges through cre­ating conditions for systemwide change and enhancing leader­ship skills and actions.
George holds a doctorate in public policy analysis from the University of Illinois at Chicago, a master of education degree from Harvard University, a master of business administration degree from Babson College, and a bachelor of science with hon­ors in secondary education from Northeastern University.
By George S. Perry Jr.
Creating Schools That Students Deserve
Advance equity by learning to crack the system's codes
We must act now, using what we already know, to advance equity and raise the achievement of every student. With three decades of leading equity work across the country, George S. Perry Jr. issues a call to action for educational leaders who are willing to fight the fight for equity for all students.
Equity Warriors is a must read for leaders at all levels of the system who have chosen to be in this fight and are ready to do what it takes to make the system work for all students.